Tips for Taking Atrial Fibrillation Drugs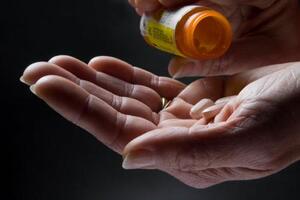 Atrial fibrillation (afib) is the most common heart rhythm abnormality among Americans. If you have afib, the upper chambers of your heart beat rapidly and irregularly. This can cause symptoms like shortness of breath, dizziness, palpitations, chest pain, and fatigue. Although an abnormal heart rhythm is not life-threatening, it can lead to dangerous problems like stroke and heart failure.
Your doctor will probably prescribe drugs to relieve your symptoms and lower your risk of stroke and heart failure. There are many options, and the best ones for you depend on your symptoms and your overall health.
Here are some tips that apply to taking all atrial fibrillation drugs:
Always let your healthcare provider know about any side effects.

Never stop, change, or add medications on your own.

Never skip or double a dose of medication.

Never take any over-the-counter medications, including vitamin and herbal supplements and cold remedies, without checking with your healthcare provider.
Tips for Drugs That Lower Your Risk of Stroke
At Your Appointment
What to Ask Your Doctor About Atrial Fibrillation
One of the biggest dangers for people with afib is stroke, which can happen when a blood clot forms in your heart and travels to your brain. Most people with atrial fibrillation need to take a blood-thinning medication, such as warfarin, to prevent blood clots. Here are guidelines for taking a blood-thinning drug:
The dose needs to be adjusted frequently to keep your blood at the right clotting time. Your blood can become too thick or too thin, which could increase your risk of stroke. You will probably need to get a blood test monthly to make sure that your blood does not become too thick or too thin, which could increase your risk of stroke. Don't skip any of these blood tests.

One of the main side effects is increased bleeding. Let your healthcare provider know about any easy bruising or abnormal bleeding.

Internal bleeding may cause your urine or stool to be red, brown or black.

Other side effects to tell your healthcare provider about include headache, dizziness and weakness.

Many medications, including antibiotics and vitamins, can interact with warfarin.

Vitamin K, found in leafy green vegetables and other foods, may also interfere with blood-thinning drugs. Ask your healthcare provider if there are any foods you should avoid.
Tips for Taking Heart Rate Control Drugs
Atrial fibrillation can cause your heart to beat 100 times per minute or more. Targeted drugs can get your heart rate down to about 80 beats per minute. This reduces your risk of heart failure. Possibilities include drugs known as beta-blockers, calcium channel blockers, and digoxin. Here are some guidelines for taking heart rate control drugs:
Be aware that these medications can interact with many other drugs, including over-the-counter medications.

Side effects of beta-blockers may include drowsiness, weakness, cold hands, and dry mouth.

Grapefruit juice may interfere with the absorption of calcium channel blockers. Ask your doctor if you should not drink it.

Side effects of calcium channel blockers include flushing, fatigue, ankle swelling, and heartburn.

Avoid drinking caffeine when taking digoxin.

Side effects of digoxin include confusion, weakness, upset stomach, and changes in vision.
Tips for Taking Heart Rhythm Control Drugs
If other treatments have not worked and you are still having atrial fibrillation symptoms, you may need one of the many drugs available to control your heart rhythm.
Medical Reviewers: Cynthia Haines, MD
Last Review Date: Sep 21, 2012
© 2015 Healthgrades Operating Company, Inc. All rights reserved. May not be reproduced or reprinted without permission from Healthgrades Operating Company, Inc. Use of this information is governed by the Healthgrades User Agreement.