Rheumatoid Arthritis and Gum Disease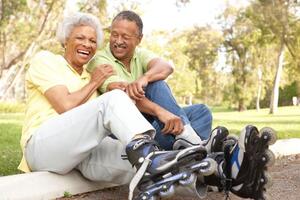 Researchers continue to find strong links between periodontitis (gum disease) and rheumatoid arthritis (RA). In one study, people with RA were eight times more likely to get periodontitis than people without RA. Another study found that people who had gum disease were more than twice as likely to develop RA than people without gum disease. What these and other studies suggest is a complicated, two-way relationship: RA may lead to gum disease, and gum disease may trigger RA in some people.
How Might RA Cause Periodontitis?
Periodontitis is a type of infection and inflammation that destroys the structures supporting your teeth. Symptoms of periodontitis include loose teeth and gums that are red, swollen, and bleed easily.
Periodontitis develops when the plaque that normally forms on your teeth spreads below your gum line. Plaque is a sticky film made up of bacteria, mucus, and food particles. The plaque building up between your teeth and gums causes the symptoms of periodontitis.
Here's how RA may lead to periodontitis:
If RA makes your hands stiff and painful, you may have trouble brushing and flossing properly. If you are feeling sick or fatigued, or you are confined to bed, might also make carrying for you teeth challenging. Good oral hygiene is necessary to prevent plaque buildup.

Some medications used to treat RA may lower your ability to fight off infection, which may lead to more plaque-causing bacteria.

RA may affect your salivary glands and cause your mouth to be too dry. Saliva helps protect your mouth from bacteria and plaque buildup.
How Might Periodontitis Trigger RA?
Doctors think that RA is caused by a combination of the genes you're born with and events in your life that trigger those genes to become active. Periodontitis may be one of those triggers.
Here are reasons why researchers think periodontitis may trigger RA:
The cells from your body's defense system (immune system) that invade your mouth when you have periodontitis are similar to the cells that invade your joints when you have RA.

A type of bacteria present when you have periodontitis has been found to cause cell changes that can trigger an autoimmune reaction like RA.

Periodontitis that begins early in life has been linked to diabetes, which is also an autoimmune disease.
What You Can Do to Prevent or Control Periodontitis
Although we still need more research on the links between periodontitis and RA, good oral health is especially important if you have RA. If RA symptoms are keeping you from brushing or flossing properly, talk to your dentist or an occupational therapist about ways you can keep your teeth clean and your gums healthy. This may include using specially designed toothbrushes and picks, cleaning your teeth with water irrigation, or rinsing with special mouthwashes.
Here are some other ways to prevent or control periodontitis:
Have a dental checkup and professional cleaning at least twice a year.

Brush after every meal and at bedtime and floss at least once a day.

Use toothpaste that fights plaque.

Repair crooked teeth (crooked teeth are harder to clean than straight teeth) or poorly fitting dentures.

See a dental specialist called a periodontist for a thorough gum examination.
Let your doctor know if you have symptoms of gum disease. If you have RA, work with your rheumatologist to keep your RA under good control. You can help protect your joints and improve your overall health by keeping your mouth healthy.

Key Takeaways
Research shows a strong link between gum disease and RA.

People with RA may be at risk from gum disease because of poor oral hygiene, medications, and dry mouth.

Research suggests that periodontitis may be a trigger for RA.

Preventing gum disease is important for everyone but especially important if you have RA.
Medical Reviewers: William C. Lloyd III, MD, FACS
Last Review Date: Apr 5, 2015
© 2016 Healthgrades Operating Company, Inc. All rights reserved. May not be reproduced or reprinted without permission from Healthgrades Operating Company, Inc. Use of this information is governed by the Healthgrades User Agreement.