How to Avoid Joint Surgery

Content provided by the Faculty of Harvard Medical School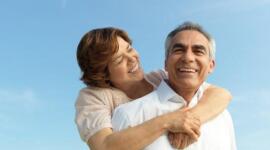 Watch personal stories of how people cope with the pain of knee arthritis.

Try these tips to get more life out of your own joints.
In the 1970s TV series The Bionic Woman, secret agent Jaime Sommers' legs and right arm were rebuilt with bionic parts after she was injured during a skydiving accident. The new parts came in handy when she needed to, say, outrun a pack of vicious dogs or jump rivers.
While science hasn't progressed far enough to outfit us all with superhero-like bionic parts, it has enabled us to surgically replace a hip, knee, shoulder, or other joint that's been damaged by overuse or arthritis. Replacement joints today are made from plastic, metal, or a combination of the two materials. And although they won't enable us to leap rivers or scale buildings, they can help us move more easily and with less pain.
Our desire to stay active, and our disdain for discomfort, sends more than 770,000 of us to orthopedic surgeons each year for a hip or knee replacement. We're turning to our doctors for these surgeries much earlier in life, too. Unlike our grandparents, who used to gamely limp around with a bum hip or knee, "we're getting spoiled," says Dr. Scott Martin, associate professor of orthopedic surgery at Harvard Medical School. "A lot of joint replacements are being done because they can be."
The rush to surgery isn't necessarily healthy, though. Any surgical procedure can carry the risk of complications—or even death. And since the average replacement joint only lasts 10 to 15 years, having the procedure done at age 50 instead of 70 means there's a good chance you'll need a second procedure when you're older and at higher risk for complications. "I tell them, 'Look, it's like a new pair of shoes. It's going to wear out,'" Dr. Martin says.
Before turning to surgery for artificial joints that may eventually wear out, try these tips to extend the life of your own natural joints.
Tip #1—Lose weight
One of the best things you can do for your joints is to take excess weight off them. "Most of the joint replacements that we do—probably over 65% of the people are overweight," Dr. Martin says.
For every extra pound you carry around, you put about three pounds of additional pressure on your knees and multiply the pressure on your hips by six. If you have arthritis, losing just 15 pounds can cut your knee pain in half, research finds. And, if you do eventually need a joint replacement, losing weight beforehand can reduce your risk of having complications from surgery.
Don't make the excuse that you can't exercise without first having joint replacement surgery. Studies don't support the idea that surgery will make you any more likely to work out, Dr. Martin says. Even with sore, weakened knees and hips, you can work out—as long as you stick with exercises that are gentle on your joints, such as swimming, walking, or riding a stationary bike.
Tip #2—Protect your joints
Using poor posture and the wrong techniques during your daily activities adds more stress to damaged joints. Just by standing up straight instead of slouching you can protect the joints in your neck, hips, and knees. Also use the proper technique when lifting or carrying anything heavy. If any activity hurts, stop doing it right away.
Tip #3—Try medical treatment
Corticosteroid injections given directly into a swollen joint can bring down pain and inflammation enough to help you get around more easily. The effects can last anywhere from four to six months. However, steroid injections may not work if your joint is already severely damaged.
Viscosupplementation involves injecting a lubricating fluid into damaged knee joints to treat osteoarthritis. Studies show viscosupplementation doesn't work any better than steroid injections. Yet it is another alternative for pain relief and mobility if other treatments haven't worked or you can't tolerate them.
Tip #4—Get pain relief
Instead of heading straight to your doctor to treat sore joints, try taking an over-the-counter pain reliever. Nonsteroidal anti-inflammatory drugs (NSAIDs) such as ibuprofen (Advil, Motrin) or naproxen (Aleve), or the prescription medicine celecoxib (Celebrex), can relieve both joint inflammation and pain. Check with your doctor when taking these medicines, because they can have side effects such as stomach upset, bleeding, and kidney and liver damage. Take them for the shortest possible time to relieve your discomfort.
Last Review Date: Aug 1, 2012
© 2015 Harvard University. All rights reserved. Content Licensing by Belvoir Media Group.